Bad Boy Delivery
April 2008
Captain Rick called and said... "What are ya doing?"
As I had hoped the moment I heard those words....and I said, "nothing much", he asked if I want to go sailing. Who ME??? DUHHH!!! "What and Where???"
Well, the boat is a 3 year old immaculate Jeanneau Sun Odyssey 54 with ALL the bells and whistles, and we needed to get it from Palm Beach up to Little River, SC. I'll save you looking it up, as I had to, and tell you the inlet is on the border of NC and SC and is the nearest inlet to Myrtle Beach. As you might guess...my reply was an immediate "YES, count me in".
We drove up to Palm Beach the next day to meet the owner, Doug Cain and his friend Sherry Burke, and look the boat over and Rick and I were pretty impressed with all of the above, and agreed to the job.
We had to wait several days, as the wind was blowing N and NE at 25kts and more and we were not about to head North into that, so we waited till it shifted a bit and calmed down and left on Thursday.
We got a ride to Palm Beach from my friend Linda (thank you so much!) and were headed out the Lake Worth inlet by 1145hrs. on Friday. Sails up, and autopilot working well, I took some time to look around and try to figure out some of the toys. The boat is well equipped with radar, chart plotter and repeater at the helm, refrigeration, freezer, ice maker, Satelite TV and Sirius Radio and separate CD and DVD players in each cabin. Probably every movie known to man was on board on DVD and no shortage of music CDs as well.
By Friday night, at 2330hrs, we had covered 81nm and the GPS said 308nm to go.
Beautiful ocean, clear sky, full moon, a good friend and a great boat...who could ask for more? With very little traffic, we were taking turns napping and watching
We were motor sailing most of the night to keep boat speed up over 10kts and by morning the wind was so light that we had to roll up the jib. I took advantage of the calm to cook some bacon and eggs scrambled with cheese. Not a bad way to start a day.
So far, I was unable to figure out how to get the SIRIUS radio to work. I got power to it but could not figure out which of the many remotes was the one I needed to access the correct source.
At 1100 hrs. Rick decided to check in with the owner by Satelite Phone and as long as he was talking with him, he asked about the radio. It goes through the Bose system he said. OK! Now I can figure it out! Radio Margaritaville loud and clear! Nice ;)
As you can see, Bad Boy is quite comfortable with Dodger and Bimini and twin helms. Makes her a pretty comfortable ride, even on a cold night.
We had been hearing calls on VHF for some time but had not seen the hailing vessel until suddenly a 'blip' on the radar about 10 miles out...and we were treated to something you don't see out there every day.
In case you don't recognize her, that's the USCG vessel Eagle. Too bad she didn't have her sails up....would have been much more impressive!
| | |
| --- | --- |
| | All lines are lead to the cockpit and the winches are power so sailing the boat takes very little effort. |
Both crew had a nice hot shower and feeling good with 191 miles to go.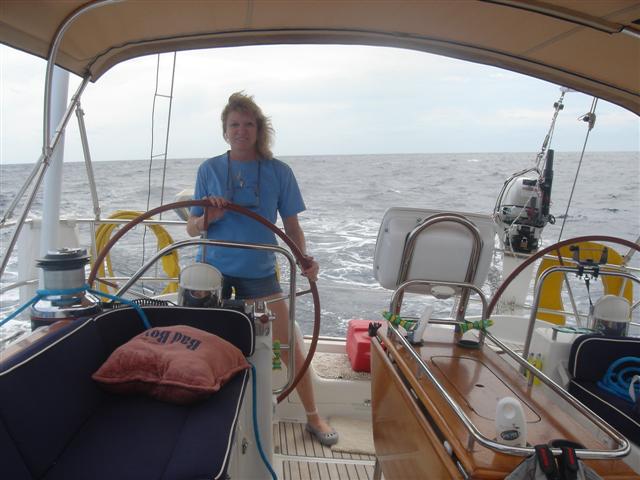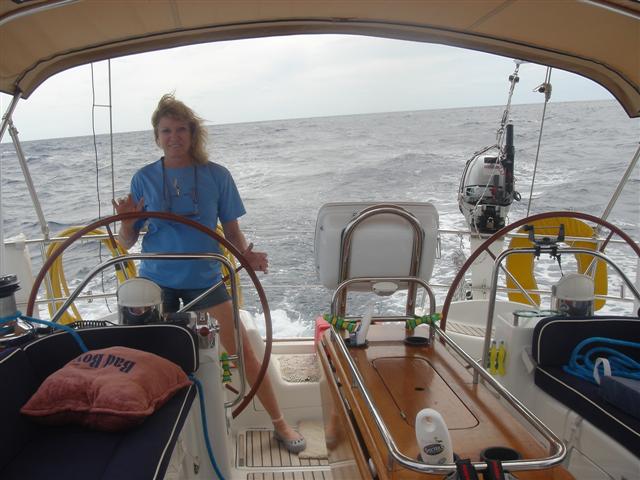 After and uneventful and pleasant evening, we sailed through the night and I was near the radio at about 0300hrs while Rick was napping. I heard an alert for a severe thunderstorm warning with hail and high winds so I got Rick up and we reefed the main and battened everything down and put on our foulies and watched the radar. We finally saw the storm about 8 miles out and we were ready so when we got closer, Rick found the lightest part of it on the radar and we ducked through. We had some good wind gusts..mabye up to 30, but no hail and it didn't last more than a few minutes. Still glad we got the boat all ready so we were not caught off guard. Gotta love that radar! It's so nice to know what's coming and how far away it is...weather it's a ship or a storm....just great to see it coming!
At 0800hrs, I heard someone on VHF hailing the vessel Bad Boy. It was strange, as we hadn't seen anyone all night or morning out there...but we were now only a couple hours offshore. Sure enough, it was one of the owner's friends. Doug had told him we were not far away and would be coming in so he took a chance that we were listening and we talked to him. Too bad he was heading out before we were going to get there so we didn't get to meet him, but always fun to hear a friendly call on the radio.
Headed in towards the inlet at about noon on Sunday and made our way down the ICW and went past the Suncruz Casino boat that Rick will be Master Captain of.
We pulled in to the Myrtle Beach Yacht Club and checked in and barely had time to shower and clean up when Rick's friend, Frank, the General Manager of the SunCruz operation came to pick us up. He took us out to lunch and on a bit of an extended grand tour of the area so Rick could have a look around.
It was a nice day and we had a good time Monday looking around the area a little and had a very early flight home on Tuesday. All in all, a very nice change of scenery for me.