HISC to Palm Beach 2014
Aboard Magic were Michael, Brenda, Shir, Dimitri, Dave, Lara and I. We were excited for the downwind forecast and at the start line ready to go. Unfortunately, there had been a change in the SI's that we were unaware of so we started about 3 minutes late. To make things worse, we had a wrap of the topping lift around the pole so our hoist was delayed a bit while that was remedied. Once we sorted things out we got the kite up and moving along nicely. Worked our way offshore a bit but not too far. The reports said the glufstream was 10 miles out so we didn't think it would pay to head out too much. In only 40 feet of water we had a 1kt favorable current and by 1115hrs we were getting a nice SOG of 7.3kts.
It was a great ride a while! And we had a good time watching Glory Daze behind us! You can see by the smiles on Michael and Shir that we felt pretty good about things. Check the small white spot between them in this photo!
Yep! Glory Daze back there. Not something we see too often! And Michael taking a helm break too! NICE!
I think this year it was Dave who saw the threat of the sky first and called for 'jib out, kite down' with about 10 seconds to spare before the wind turned cold and hit with a vengeance. None of us had a chance to get our foulies on before the rain came, as we barely got the sails changed in time! The important word is barely, since we DID get it done. I was really glad we had not switched from the #2 to the #1 on the furler before we left the dock. Likely we'd have ripped that out in the squall.
Others were not so lucky (or smart)! We then started to get very wet and some of us were cold.
We had only a few more miles to the finish so we toughed it out before we ran for drier clothes and jackets and headed in the inlet. By then the rain had mostly stopped and we were happy to be inside. Finish time was 1614:20hrs.
Our race results were less than impressive, as we corrected to 5th in class. My old friend and skipper from Regardless and Dragonfly was on a J-30 now called Paparazzi and they got first with Hot Tuna and Pi and Pick Up Styx ahead of us.
The 3 minutes or so that we were late for the start may have had us in 2nd or 3rd. More lessons learned!
The dinner was good but no band or entertainment and that was OK with me also.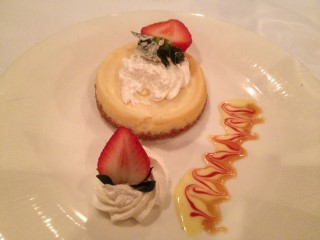 It was a long day!
I stayed at the now Best Western Windsor Gardens again and I really must remember to provide my own 'night cap' if I want one, as their bar was closed for the season after Easter!
We had a discussion in the morning after a weather check and finally the decision was made by Michael to go ahead outside. The forecast was for 15 with gusts to 20 from the NW turning N later. I was hoping for a nice flat sleigh ride home with the Assym up but no one really felt like working that hard so we went home wing on wing with the Jib poled out most of the way.
I really should NOT take the helm when we do that, as I just don't have enough recent practice and my accidental jibe, when a wave caught the transom cost Lara a pair of sunglasses and a main sheet whiplash across the face! Not good! Glad we had lots of ice aboard for her and no blood was drawn! I didn't think she'd want the photo posted so I won't!
We had a long fun visit from a pair of large Dolphins on the way home. I got lots of video and still shots of them playing on our bow.
If you want to see the rest of the stills and the videos, they are online here: Dolphins
We made it back to the dock by about 1600 hrs and a great weekend was had by all.