Stef's Story:
In August, I contacted Chris to ask if he wanted to do Key West Race Week this winter. He replied with an unhesitating YES, and so the work began.
First I booked a Condo at the Galleon and then booked a slip for a boat we did not have yet. Had to come up with a size for the reservation so I reserved it for a Beneteau 25, knowing I'd likely change it later.
I contacted all the local sail makers and after discounting a few choices, came up with a Beneteau 33.7 called SAFARI, that had North 3DL sails and a new bottom and was told it was ready to race. I'll keep this long story short by saying we chartered the boat, annoyed the dockmaster by changing the reservation, and recruited crew. Chris brought Neil and Bill and Mark from England and Christos from Cyprus and I recruited Nathan from Annapolis and Mary from Boston and the BYC tour 2003 was born. (That's Brit, Yank, Cypriot)
Mark and Christos were first to arrive in Miami and then Bill. We took on one hitchhiker (Colin) for the delivery to KW. We had to motor sail most of the way in light air and it was a pretty painless trip for the most part. We arrived at Key West at about 1000hrs but decided to stop and do a bit of sail testing on the way in. Big mistake!! The wind changed and a storm came and we had to motor in against a 25kt wind for about 2 extra hours!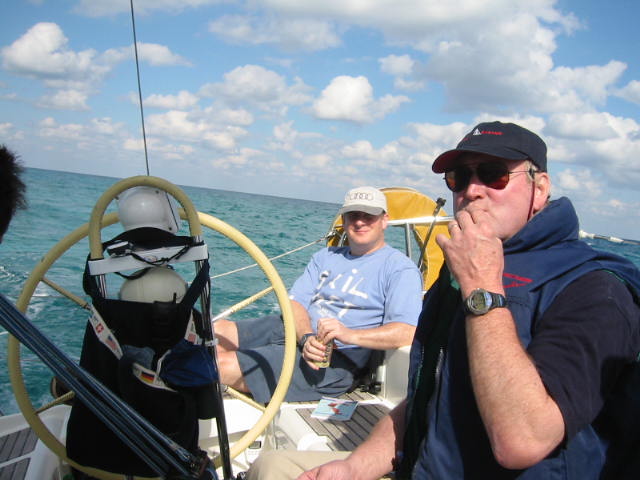 Chris, Neil and Nathan finally arrived late Friday night. We were all pretty tired but I always feel so much better once my co-skipper and crew arrive!
Saturday was boat day. Stripped off anything that was left aboard that was not needed for racing, taped what needed taping, re-rigged the rig, moved the mast…you name it, we did it. Finally the boat was ready to go sailing and practice but the day was gone. Dinner at an "All you can Eat" place was passable but not great…the price was right.
Sunday, final crewmember, Mary, arrived just in time for us to all jump aboard and go out sailing. Did some pretty good practice work. Upwind, downwind, tack, jibe…hoist, take-down…mess it up, do it again till its right! Went in with just time to grab a quick shower and get to the skipper's meeting. Collected our skipper's kit and Mt. Gay hats (thank you Mt. Gay for giving enough for all the crew!).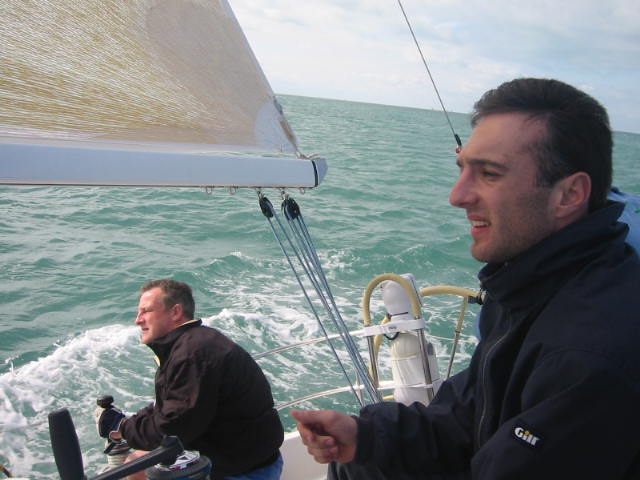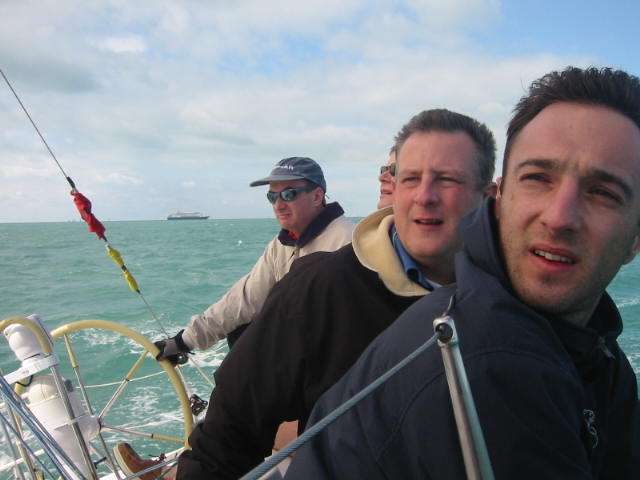 Bill cooked some great steaks at the condo and it was a feast indeed! He also did breakfast every morning, full spread including bacon and eggs, bagels, cereal, anything you wanted including a proper cup of tea! Lap of luxury we were living in! I even believe I caught Chris having breakfast in bed one day! Nice service!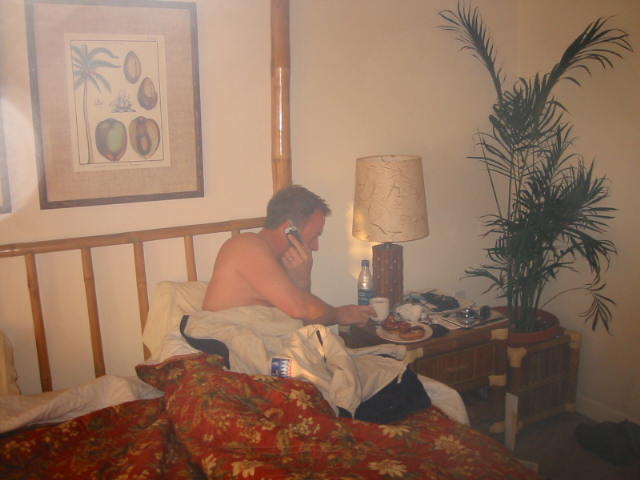 Monday, race day. Crew work left a lot to be desired…total disaster in the first race and still we got a 3rd. Crew work improved dramatically for the second race but the wind shut down after the fast boats finished so we ended that with a 5. That gave us a 4th for the day. We knew we could improve.
Some things don't change over the years…it's still not safe to use a Port-O-Let at the tent party when Chris is around! Poor Mark, must have thought there was an earthquake!
Mary and Neil cooked a fresh Dolphin dinner for the crew and it was awesome! A well-fed crew is a happy crew! Christos was seen making lunches... love it when the crew all lend a hand!
Tuesday morning two crew (I won't name names), who were staying aboard showed up in the room and reported a bizarre event during the night. They were on the boat when suddenly it started to rock violently from side to side while still tied to the dock! Surely it was a Manatee or some other creature bumping the keel! Sails fell off the settees, gear bags left aboard went flying…wonder what could have caused all that? (Don't ask Chris or Stef or Christos!) *giggle*
Tuesday on the course, light air but a beautiful day. Race 1 we had a perfect start ..on the line with good speed and good position out in clear air. Crew work was much better…results: 5th and 3rd.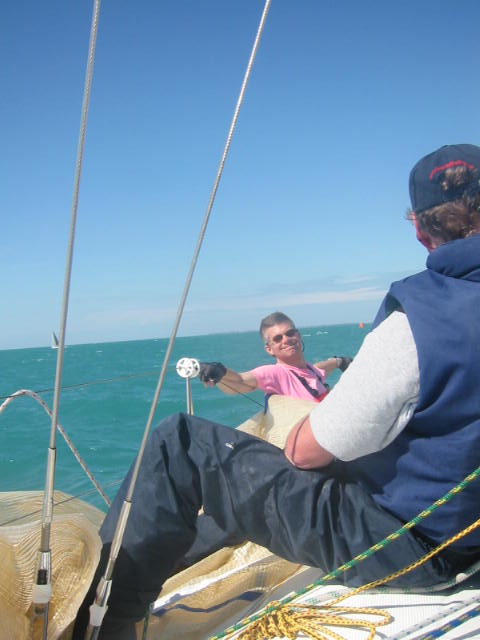 After racing, the hot tub seemed to be the place to be for the crew but I had to stay and wait for a local mechanic to come repair the head. Luckily it was a quick replacement kit and not a major ordeal. I caught up to our crew in time for the required photo moments ;)
We went to the party tent and collected our 3rd place trophy for the day. Each day I chose different crew members to go up and collect the goodies.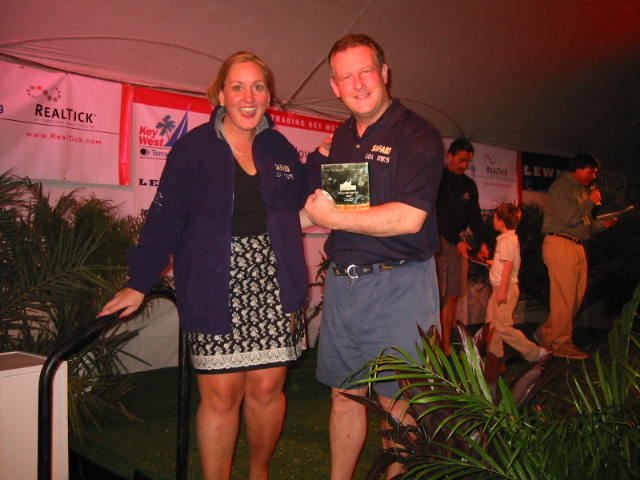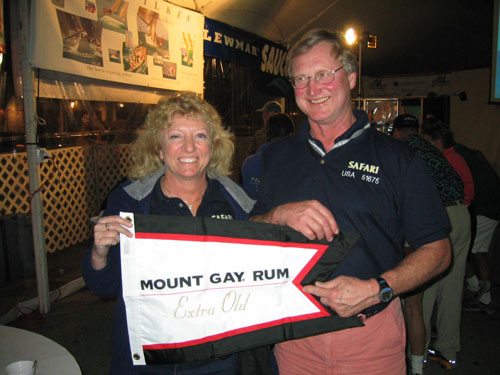 A quick dinner at the Conch and the evening's entertainment brought us to the Knot and Shot at the Schooner Wharf. Our team did pretty well but still room to improve there as well as on the racecourse!
Wednesday on the water…nice start…decent wind... then it died out…course shortened…. great timing!
Neil provided an excellent Shrimp and Pasta dinner before we headed to the tent.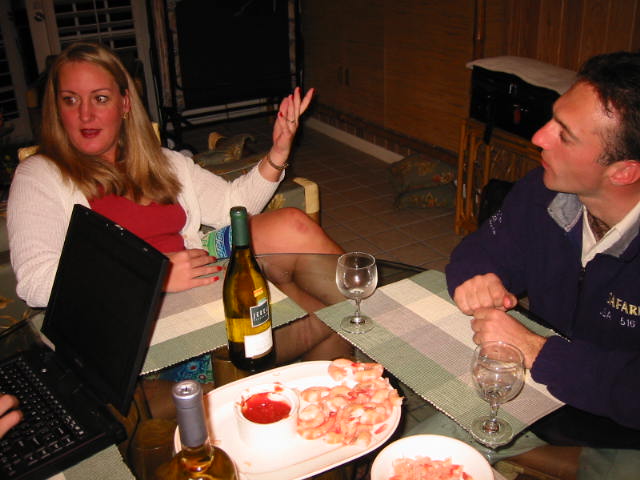 We got a first for the day. Chris and I went to collect the hardware this time!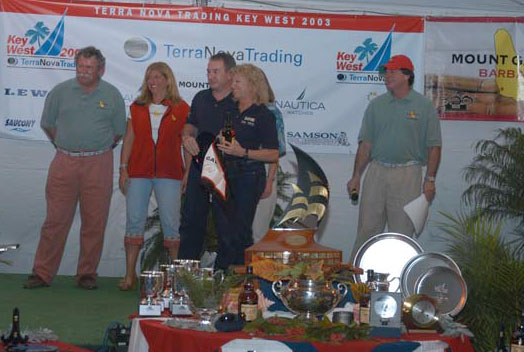 Thursday brought a beautiful day… sunny…. about 60ºf air winds at 10-12mph.
Race 1… Tough race…5th place. Amazing that RC said they'd try to get 2 races in before 1400 to be ahead of the wx.. Wayne Bretch is our PRO and did an awesome job. We finished the second race at a little after 2pm in 2nd place as the wind picked up to a max of 30mph. We sailed back to the dock. Fuel refill, tent stop…collect another trophy, dinner at the Conch again…. On to a few bars then home to bed. Holding at 3rd for now!!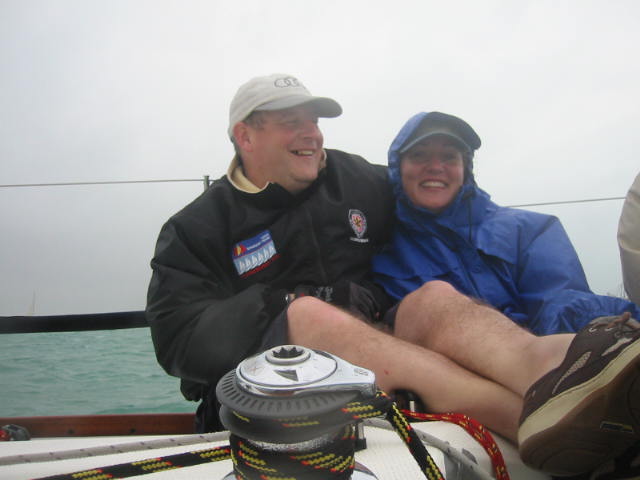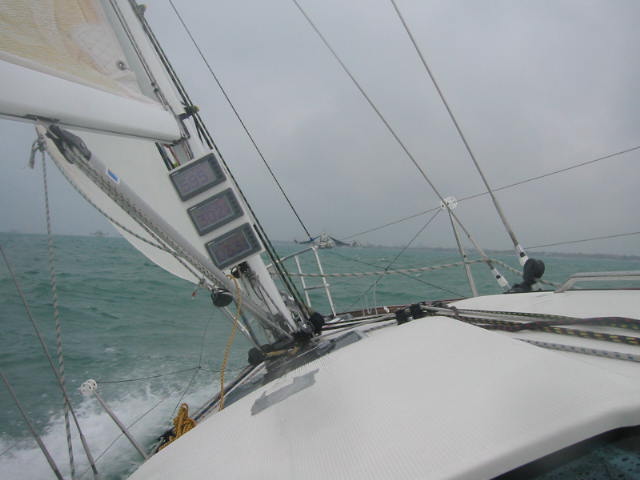 The wind continued to howl all night and we were starting to think there would be no race on Friday but once again the RC did an excellent job of making the call. They put up the postponement at the 0830 Harbor Start gun, and announced that they'd wait until 1000 to make a decision. At 1000, they sent us out to start the last day's race at 1130 and we had another good day. Finished with a 2nd place somewhat frustrated that the boat that won never even put up a spinnaker and we worked hard! PHRF can be a difficult division to race in but we held on to our 3rd place for the week overall.
We went to the tent to pick up our final 2 trophies and then Mary and Bill headed out and the rest of us went to the Roof Top for our final dinner together.
The final word is that we sailed well, our starts were as close to perfect as I've ever seen for a whole week, we never had to go to the protest room, our crew all had a great time and we shared the trophy collection.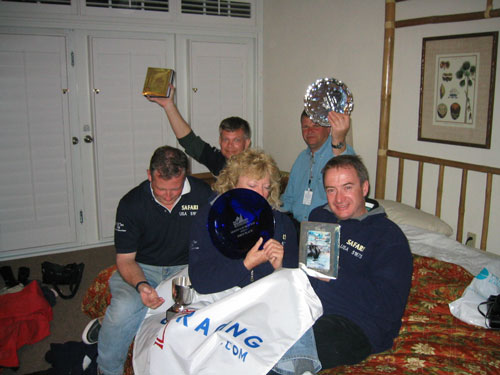 Any stories you may hear that refer to sightings of the BYC 2003 tour at any strip clubs or any other questionable behavior are certainly not verified and there is no evidence to support them and therefore cannot be believed!
SAFARI and the BYC 2003 Tour!