Miami Key Largo 2013

April means it's Brenda's Birthday (honoring her with the pink on this page) and we get to celebrate with her on Magic in the race to Key Largo!
Onboard were Michael, Brenda, Bob, Tom, Dave, Shir and Me. The usual suspects!

.
The Weather Guessers told us this year would be an upwind race and that it was! Tacking all the way down the bay made for a LONG 9 hour race as can be seen in this track,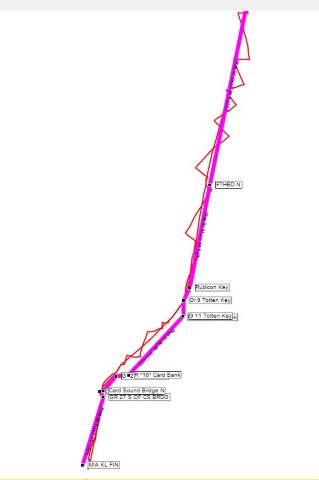 and about half of the monohull fleet didn't even finish! We had one very ugly squall but we were ready for it, as we had partly rolled up the jib and also reefed the main when we saw it coming. No torn sails this time and Michael did a great job driving in it and once past, conditions improved.
Others were not as lucky, but at least no one was hurt!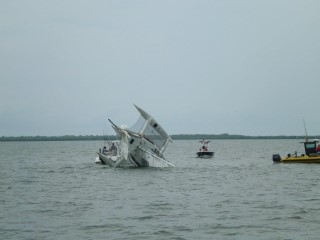 Once again, we were wise enough to book the rooms at Gilbert's very early. They were sold out. I wonder if this place ever sells out at any other time of year other than for this race. They have been going downhill as far as service and the rooms leave a lot to be desired. Is this really up to code???
If it were not so convenient, we'd be somewhere else I think. There were also problems getting Ice on Sunday morning so departures were delayed

We were hoping to try out our "new used" spinnaker and when we were not able to fly it on the race, we looked forward to sailing it home. It was not meant to be! As I had predicted before Michael bought it, for sure if we had it, we'd end up with a beat to weather both days and that's what happened. The SE on Saturday, went against the predictions and became NE for Sunday. It really is disappointing when we have to go upwind both ways! Wait, we LOVE Sailing!
At the Awards party we were thrilled to find Magic with a FIRST in class and we were also the ONLY boat to finish in our class! I tried to snag the 2nd and 3rd place Rum from the R/C since we did all pay our entry fees. I figured all prizes should be awarded but they didn't agree. Can't blame me for trying!
All in all, another GREAT weekend on Magic with the Magicians!