Puff Delivery 2012
I had started to write the whole blow by blow story of this trip but decided that since only 2 or 3 people would really care to read it, that I'd just shorten it to basic details with a few photos.
Richie was bringing PUFF, his Beneteau 461, home from Va. to Fort Lauderdale and needed some crew so I volunteered. I rented a car and drove up to Beaufort, SC to meet him and replace the 2 crew he had for the first part of his trip. I left home about 2:30am and arrived up there about 10am.
We left Beaufort on Sunday, Oct. 21 and did the overnight sail to St. Mary's Inlet to Fernandina Beach, FL. Once in the inlet, we anchored out for a bit waiting for daylight and then moved the boat across to a transient dock so we could wander around town for awhile. We had lunch there and then went back aboard. We decided to run the ICW for the next leg and found a place to anchor just north of the St. John's River for the night.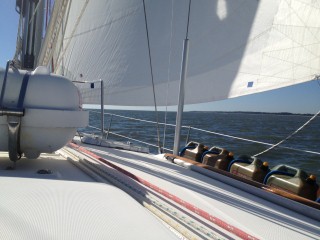 (hitchiker on my sleeve)
In the morning we pulled anchor and went the rest of the way to St. Augustine and were there by 3pm on Tuesday, the 23rd.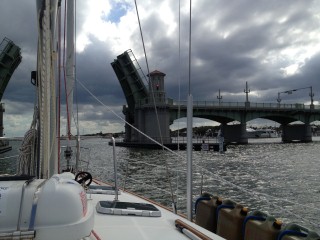 We were to meet Richie's wife and some of their friends there on Wednesday and though we intended to leave on Thursday, Hurricane Sandy changed our plans. We moved Puff across the ICW to a the Anchorage Inn and Marina with better shelter from the NE and we took the Jib off and doubled up on dock lines and waited. While there, we met some dock neighbors who took us to a local sailng club meeting and they had a Coast Guard Aux fire safety demo that was quite good.
Puff was fine through the storm and we left the wind instruments on.
We did see it hit 40kts once or twice so we were happy to be safely in port. We stayed in St. Augustine until Sunday and used the time to tour the Flagler College one day, which was really lovely!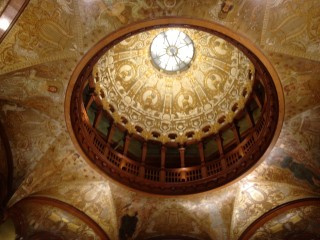 Out the STA inlet on Sunday and the big seas in the inlet were a bit on the scary side! I wished I could have taken some pix of that but didn't exactly get the chance.
Once out the inlet, the sea state was much better and we were able to unfurl the sails and it was a really nice day. We sailed all night and going out around Cape Canaveral wasn't such fun, as it was cold and paretty big seas, but once we cleared that and were able to get back in close to shore, things settled down and we went straight to Lake Worth inlet, arrived before dark, and anchored alongside the Sailfish Club for the night.
The glare on this is bad but you can see the 9.4kts ;)
Up and off the hook by about 8am, we sailed home and made the 17th St. Bridge in Port Everglades at 2:30pm. We were greated by the USCG who decided we needed a safety check so they did that whle we waited for the bridge.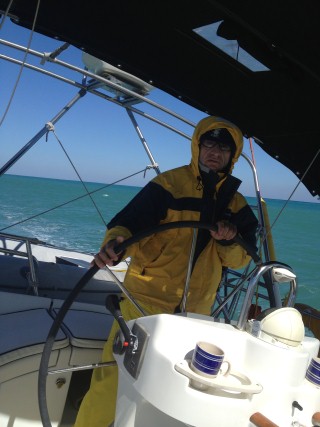 All in all, it was a great trip and I had a really good time! Puff behaved well and we were sailing off the wind most of the time so rarely anything uncomfortable for the whole trip!