Screwpile Lighthouse Challenge
2007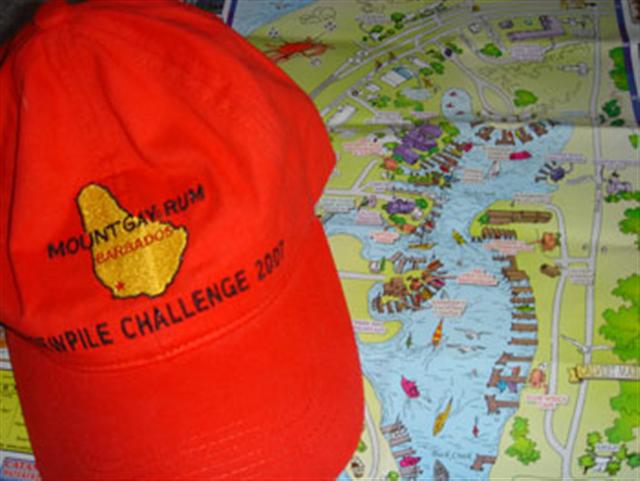 When Bonnie asked if I'd like to come up to Annapolis for the Solomon's Race and Screwpile Regatta, I hesitated a little. I've done those events before and usually the weather his VERY HOT and the wind is severely LACKING! Its one of manys time of year that Florida offers better sailing conditions with warm days and a nearly guaranteed sea breeze. However, since none of the boats I've been racing lately have been out sailing... I decided I may as well go north. Bonnie and I got to sail with her friend Ron Anderson on his J-30, Insatiable and I think this entire event will go down in the history books as one to remember!
| | |
| --- | --- |
| | |
The Solomon's race began with clear skies, a great sunset and a downwind start. We had the jib up at the start line and switched quickly to the spinnaker, which then stayed up and flying for the entire 44 miles to the finish line! It was pretty awesome not having to spend the night beating our way down the bay! Also awesome was that we finished in the dark...sometime around 1:30am....well before daybreak and the dreaded morning doldrums that usually keep us in sight of the finish line but unable to get there! The hard part now was to find our slip! We only ran aground 2 or 3 times trying to find our way! All in all it was a great night, accented by the luck of being allowed early check in to our room so we were able to get a nap before the 7am Bloody Mary party at the pool!
After a few $1 Bloodys and Screwdrivers, it was for sure time for another nap! After all, we still had to grab some dinner and make it to the Skipper's meeting and party for the Regatta starting on Sunday.
Bonnie took me over to my hotel, which, though it was probably a 10 minute walk...was worth the distance, as I found that I had a large Jaccuzzi right in my room! How NICE! I think every hotel should have one. Hell.... I think my condo should have one too! Don't think the rules would allow it though...too bad! It turned out that I never had to do the walk anyway, as Bonnie kept giving me her car to get back and forth! That's my friend!!! ;)
Day one of racing and I'm not normally up near the pointy end of the boat but Bonnie and/or Bill was to be in the Pit so there I was placed...up in "Adventure Land"! I didn't have much work to do, as the Bowman was excellent...but still I did whatever I could to help. We headed out to the course and we got in three good races. Wind was up in the high teens, and maybe even low 20kt. range. Our class only had 5 boats, so the 4th we scored in the first race was disppointing. I was very encouraged by race 2 where we managed a 1st and again in race 3 a 1st, which gave us a FIRST for the day and a trophy for the skipper.
The evening Mt. Gay party was fun, as they always are. Good people, good weather, good Rum, good entertainment. Blowing boats across a trough for Mt. Gay prizes just added to the good times. Spirits were running high.
Day 2 brought another amazing day on the water. Plenty of wind and 3 more races. Insatiable managed to score a 1, 4 and 1 which gave us another FIRST for the day!
One of the things I'm always amused by at these regattas is the creative collection of T-Shirts you see on people.
Day 3 and though the weather guessers predicted light air... only 5-10, they guessed it wrong! We got in 2 more races with wind up in the 15kt range and maybe even more. Though we were enthusiastic, we were also all hurting and tired and bruised from the first two days and we only managed a 2nd in the first race and the dreaded DFL in the last. Not the way we wanted to finish the regatta, as we had hoped for another daily trophy but we just had to settle for the First Overall in J-30 Class.
And the fun goes on.....
And then there are the awards....
| | |
| --- | --- |
| Eddie collects First in J-105 class | Congrats Eddie! |
| Ron collects the trophy for J-30 class | Stef and Bon collect the overall in Ron's absence. |
| Nice hardware! | The Bay below. |
Thanks to Ron and Bonnie and all of the Insatiable Crew for having me aboard for the Screwpile Lighthouse Challenge 2007, which I think will be talked about for years to come as the best one ever! Thanks also to Mount Gay Rum and all the organizers and volunteers that made this all possible!