Steffi does Exumas?!?
Race turns Cruise
The Ft. Lauderdale to Montego Bay Race started for us on a C&C52 from Chicago called Sapphire. This will be a very short story because we never got there. After 4 days of beating upwind in light air we came to the conclusion that there was no way to get there from here in the time we had.
Some excitement did come in the middle of the night when we had a too close encounter with a reef. Tom and I were off watch as was the skipper. She had left the laptop on the right page for the right chart on the maptech program and it was just a matter of someone hitting the enter key to see that we were closer to Eluthera than they thought we were. So we went bump in the night and were lucky it was just a brush with disaster and not the real thing.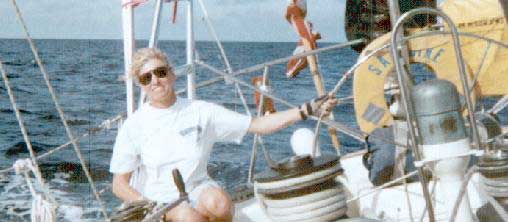 Stef at the helm
Drifting match with Bandana
Most of the crew had hotel rooms booked in Jamaica and wives flying in to meet them. So when down near Little San Salvadore (Bahamas), we took a vote and voted for the nearest island with an air strip, so Staniel Cay it was. We changed course and headed there and most of the crew flew out the next day. Tom and I elected to stay with the boat for awhile so we turned it into a vacation in the Exuma's. Staniel Cay is a lovely little island with yacht clubs and restaurants so we went exploring. It is also famous for being the home of the cave where the "Thunderball" movie was filmed and we were able, at low tide, to snorkel through it. Great spot! We also rented a small Whaler one day to go visit some nghboring Cays like Sampson, and other caves and had a great time.
Thunderball cave entrance
Fire damage? no problem! Where's the Rum?
Click here for a female perspective :)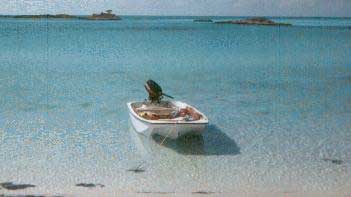 Click here for a male perspective :)
From there it was on to Highborne Cay which left us both unimpressed. The main thing it had going for it was a deep harbor with dockage. But there were no showers, restaurants or bars or anything else there and we just spent one night.
Then it was across the flats and on to Nassau for a day and from there a flight home to Ft. Lauderdale.
As much as we'd have loved to make it to Jamaica, we really can't complain too much about the experience and the vacation. Maybe a faster boat next time or more wind!