Annapolis NOOD's 2002
It doesn't seem possible that another year has passed but since I just did another NOOD regatta in Annapolis, I guess it must have!
With strong thunderstorms in Baltimore, the airport was closed down and my flight was delayed for four hours, but once on the way, the flight was fine. I met a young guy at the airport who was wearing a regatta shirt from a Miami event, so of course I asked if he was headed to Annapolis for the NOODs and he was, so I offered him a ride from the airport and he was happy to accept. At least I had another sailor to pass the time with while we waited. (Congrats Ian on a great result in the Mumm 30 class on Rainbow!)
The regatta drew a record 225 boat fleet with 15 One Design classes. I was racing with Bonnie on her J 30, Bearaway, in a class of 18 boats. The other treat was that Mary flew in from Boston and was sailing with us as well. She and I haven't had the chance to sail together since the Javelin days!
The first day's racing brought more wind than we wanted... blowing in the 20's with gusts over 30kts. I never like having a very windy day on the first day. I'd always prefer to have the wind build throughout the week, but we don't always get our choices when it comes to wind. We were lucky to have some good crew and plenty of weight but we were not happy to break the Spin halyard on the first race! Not good on a 3 race day. That was pretty expensive for us in the finish positions and it was a reminder of last year in this event when we broke a Jib halyard. I guess next year we should have a good look at the Main halyard before this regatta!
The good news was that we managed to sail all 3 races and use the Jib halyard for the spinnaker and our results improved as the day went on, with a 12, 10, and 6 for finishes.
Saturday the wind decided to go from too much to too little. It was very light and fluky and we were lucky to get a race off at all. Not all the classes did.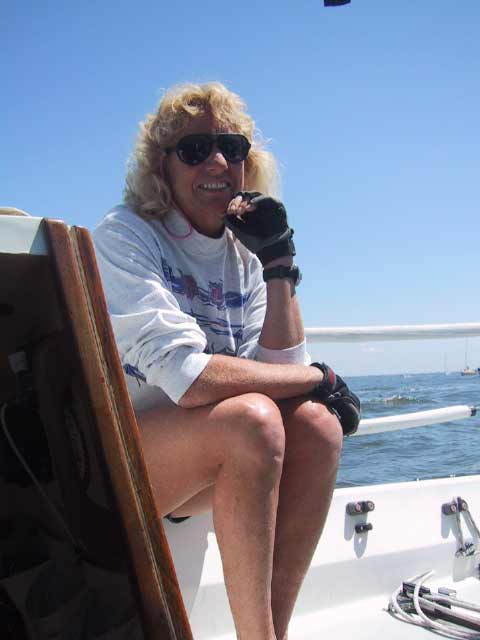 waiting for wind
Sunday looked like we'd get a really perfect day but then as the day warmed, the wind died. The race committee did a good job of trying their best to get us racing but if you look at the photos below, you can see that the 3 classes that started 5 to 10 minutes apart, (Etchells, J 30 and Melges 24) were now all bunched together trying to get around the weather mark against a wicked current with no wind, so finally they had to call the race.
All in all it was a fun weekend and sailing again with Bonnie and Mary is always a treat for me!
We ended up 10th for the week. Not great but surely respectable with 18 boats in the class.