RTIA '98
---
For those of you who don't know...that is Regatta Time In Abaco.
For us it began this year with a flight over to Treasure Cay on July 2, which nearly had to be changed when, at boarding time, we realized that our return ticket had not been handed back to us by the ticket agent. The Bahamas won't let you in if you can't show them a return ticket. I guess they just don't want us stranded over there with no money to get home. Can't say I blame them! Anyway our tickets turned up in someone elses envelope at the gate so they only had to hold the plane about 10 mins. for us. Arrival at Green Turtle Cay found the weather hot and windless and that was also the day of the Round Green Turtle Race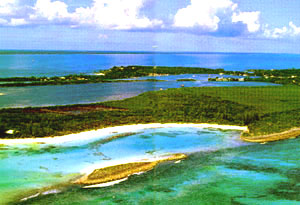 Island of Green Turtle
which we were immediately glad we hadn't entered. As it turned out only one boat managed to finish inside the time limit and that was Risky Business. Congrats to Barbara and crew for a job well done! The awards presentation was held at The Green Turtle Club, our favorite little spot on Green Turtle.
We decided that this was to be more of a vacation than a regatta and its certainly set up to be that way! Race every other day with lay days in between for snorkel trips or island exploring and partying and whatever else you are up for. Protests are discouraged heartily and its designed to be more fun than serious racing. So in the spirit of a real vacation we chartered a boat that was built by a friend about 7 years ago called Munjack.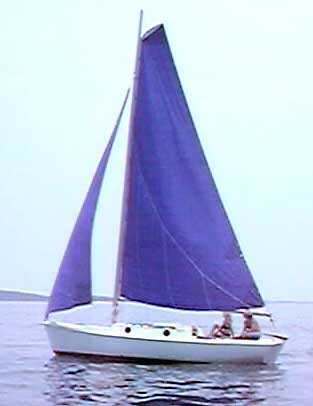 Its called an Abaco 24 and is easily sailed by a crew of 2. Tom did the driving and main trimming and I did jib and fordeck. Since the boat has only 2 sails this job was pretty relaxing! There are no winches or instruments of any kind. In fact we added some telltales to the jib and shrouds just to help us see the wind and get the trim right.
The partying began with a beach bash hosted by the "Stranded Naked" crew on a little beach just north of Green Turtle Cay. The place was supposed to be called Fiddle Cay but we saw no such name on the charts. We scooted up there on our rented 14' Whaler and it sure was the event not to miss! This group has a houseboat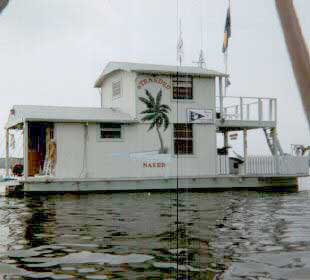 that they keep over there and sure know how to throw a beach party! They hung a sign, therefor designating it "Fiddle Cay" for the day and brought a small generator along to run the blender and a huge wok to make the fries in and the grill was kept busy with burgers. Jimmy Buffet blasted from a boat anchored nearby and 'water noodles' were provided for flotation for all. Umbrellas
stuck in the sand about waist deep provided a break from the hot sun but we had to be careful as the tide came in!
It all ended too soon as we had to make our way over to the Skipper's meeting.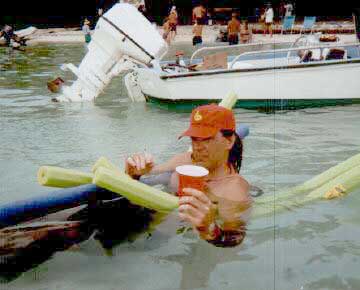 Race #1 started and ended as a drifter on July 4th and the course was shortened early on. But we did get a race in and were happy to start the Regatta with a second place trophy. No one was more surprised than I was but that little boat sure can ghost along in light air! This was a downhill drag race and the trick was just to find the puffs and drift from one to the next. The trophy was, as always, from the Johnstone Galleries down at Little Harbour and as this was the Green Turtle race, it is a beautiful mahogony plaque with a bronze turtle sculpture mounted on it. The awards party featured free drinks so you can guess the rest! Of course we managed our mandatory stop at Miss Emily's Blue Bee Bar for the obligatory Goombay Smash. For inventing this drink, Miss Emily has been declared a Bahama's National Treasure.
The next day was a layday and travel to Great Guana was the first order of business. Our home over there was called Driftwood and was hand built by its owner and one of the lovelyest places you could imagine! He has also built Treehouse next door and hasn't lost his touch. We arrived and went directly up to Nippers where there was already a party in progress but mostly the sport fishing crowd so we walked the beach and went over to the Guana Cay Resort for a "Guana Grabber" (and another and another). An early night to bed and then Race #2 gave us a disappointing 7th place with our new rating. You see...this is called the 'Mother Tub' class and ratings get adjusted after each race by some system we haven't quite figured out. But each time you do well your rating reflects it and when you lose the rating goes with it. The idea is to give everyone in the class a chance to win something. So with a 180 in the first race we were moved to 140 in the next because we did well. After this 7th we were readjusted to 144.
Lay day again, and we started with a trip over to Marsh Harbour to pick up the 18' skiff we rented. Now we were more mobile and had time for a trip out to the reef for some snorkeling. What a beautiful place with reef lining the length of the island! Lucky for the lobsters that they are out of season! The crystal clear waters show lots of life with a variety of reef fish and coral. The evening provided a party at the club with a buffett of steak and grouper and a live band for dancing and more Guana Grabbers.
Race #3 we got a very respectable 3rd place and we were thrilled with another Johnstone Trophy... this time with a bronze dolphin on it. We were having great fun with this little boat! We are sure we would have won the photo contest had there been one! Everyone kept coming to tell us how pretty she is and how much fun we looked like we were having! They were right!
For the next lay day we took both boats over to Marsh Harbour and checked in to the Conch Inn. Finally an island with a bank! Cash was getting low and there are no ATM's in the Abacos! Wallet restored, we gathered a few friends and 6 of us took the skiff down to Pelican Reef, which is a protected underwater park, and did some snorkeling. This one provided us with a few beautiful rays and a sleeping Nurse Shark along with all the other usual colorful reef life. After awhile it looked like a storm was on the way so we pulled anchor and went down to Little Harbour and were thrilled to find that Pete Johnstone was there working in the foundry that day. We had brought our trophies along and he autographed his artwork for us. This is the island that has the art gallery and foundry where they were made as well as a display of the beautiful works he does that are shipped and sold worldwide
.
Stef and Tom with Pete Johnstone
Also there, is Pete's Pub. A great little Tiki Bar where we spent the next couple of hours before heading back up to Marsh Harbour.
Another party and off to bed.
Race #4 was the Hopetown race. This one dawned with some problems for us. A short time before the start we broke the double mainsheet block that hangs at the end of the boom. We got on the radio and were able to borrow a single block from a friend and made it work for the race but with heavier air it was really difficult to manage the Main with only a single purchase on it and this was a 12.5 mile race. We had a tough time of it and finished last in class. But Hopetown is a lovely place with the famous Hopetown light
and we climbed up to enjoy the view. It's quite spectacular from up there. The party and awards were at the Harbour's Edge and as usual drinks were free. We couldn't stay too long tho, as we had to still tow "Munjack" back across the Sea of Abaco to Marsh Harbour for the night and wanted to be there before dark. All things do not go as planned. We had loaned our skiff out to a friend that needed to get back to the big island and by the time he returned there wasn't much daylight left. Tom did a great job of navigating and finding our way home in the dark! Bahamians are not exactly famous for marking harbours or channels.
Morning brought us to the start line again, this time with a rating of 350, for another buoys race and we managed a 4th in this one. Not bad but a bit too much wind for us to place in the running even with that rating. They adjusted everyone elses as well.
The next day was a layday and a rainy one at that, and we spent the time messing around with the boat and seeing some of Marsh Harbour. That night was the final awards party across the harbour at the Jib Room and the celebration was not a disappointment.
A bit of confusion with our hotel reservation left us homeless for the night so thank you to Chris and the Yellow Jacket crew for putting us up. Morning was time for an early start. Another trip to the bank for more cash and then on to Munjack for a great sail back to Green Turtle where she lives. We were lucky to be ahead of the storms and made the 20 mile trip in a swift 3 hours. We timed it so we were going across the flats at high tide and that helped. After checking back into our room at the club there we put the boat back in her slip and had dinner at the club and a few drinks and some dancing before calling it a night.
All vacations end too soon and next day was departure day. We'll be back next summer!